Quality Residential and Commercial Painting made easy with Sydney's leading professional painters.
Based in Sydney, we are a team of painting and decorating specialists, dedicated to providing homeowners, property management companies, business owners, general contractors, architects and more a full array of painting and decorating solutions. We combine years of experience in the industry with unmatched workmanship and commitment to quality to surpass expectations, transform houses into homes and help buildings make a lasting first impression. We are proud to be one of the leading painters in Sydney and we serve the entire Sydney area. No project is too big or too small for our passionate team! Orange Painting completes every project we undertake in-house—no subcontractors, no hidden payments, no surprises. We are fully insured, and our work is backed by a 5-year warranty for your peace of mind. Learn more about the talent and expertise behind Orange Painting and our services or receive a free quote and colour consultation for your next painting or décor project.
Interior Painting
Interior house painting services can completely change the look and feel of your home.
EXTERIOR PAINTING
Your home's exterior is its first impression on everyone who walks by or enters the door.
COMMERCIAL PAINTING
Orange Painting delivers high-quality commercial painting services in Sydney. 
STRATA PAINTING
Our experts would check for rot, cracks, water penetration, rusting iron & chalking. 
We at Orange Painting pride ourselves on being one of the best house painters in Sydney. To maintain our sparkling reputation, we rely on a combination of unmatched workmanship, reliability and transparency, and exceeding high industry standards for safety and environmental consciousness.

We stand out from the competition because approach each job differently. No two houses, commercial buildings or spaces are the same: at Orange Painting, we sit down with you to discuss your needs and get to know your building. Whether it boils down to interior or exterior painting, strata or commercial solutions, we look after you and your space with a 5-year warranty for your peace of mind.

Breathe new life into your property: get a free, no-obligation quote from our painting experts today.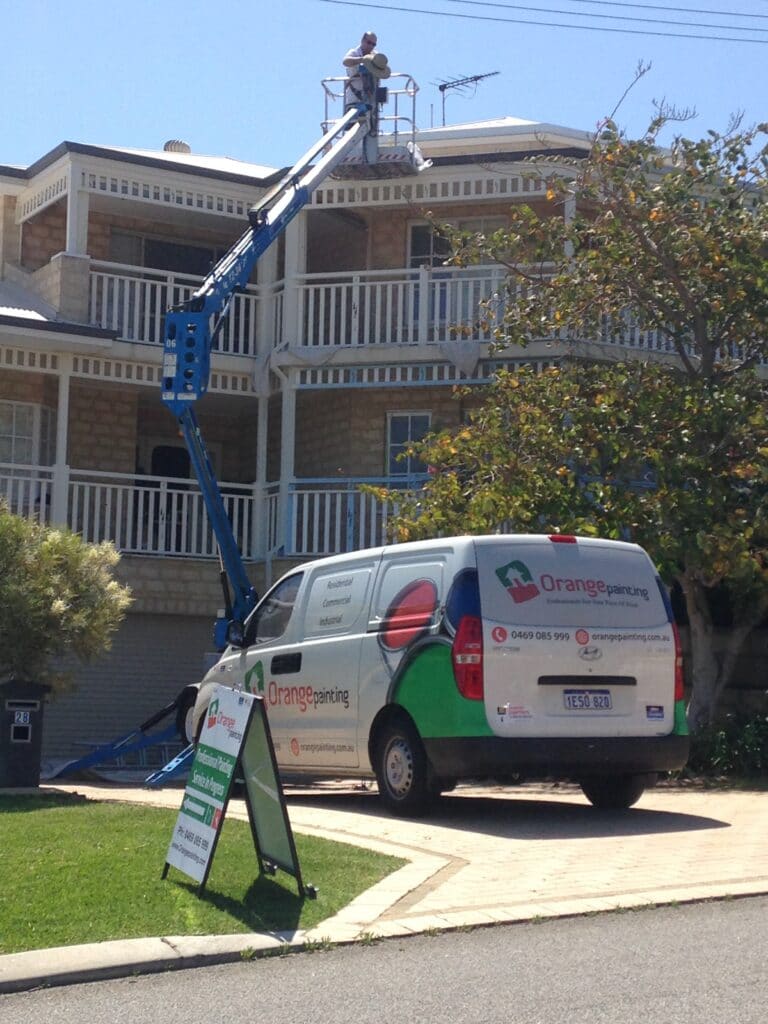 "Dear Mike – thanks for the superior painting work on our house! You and your men did superior work, and both my husband and I are completely satisfied with the finished project. I am so happy that we decided to go with "Orange Painting" because I am certain that none of the others, we received quotes from, could have done the work in the way that you have done. Thank you so much."
"We'll get all our houses painted in future by Mike and his professional team. This is the second house Mike and his team have painted for me as everything went very well with the first one. They were prompt, courteous, did good work and charged a fair price. We will continue hiring them for all our painting needs."
"Our house looks great, and we love the paint job. We are satisfied and delighted with the service Orange Painting provided for us! The quality of the job was high, and the customer service was outstanding! It was a pleasure to work with you."
"Pleasant to deal with a painting tradesperson who's professional and honest. Mike does his job very well. It was impressive how Mike conducted his business. One of the most honest and reliable people I have ever met."